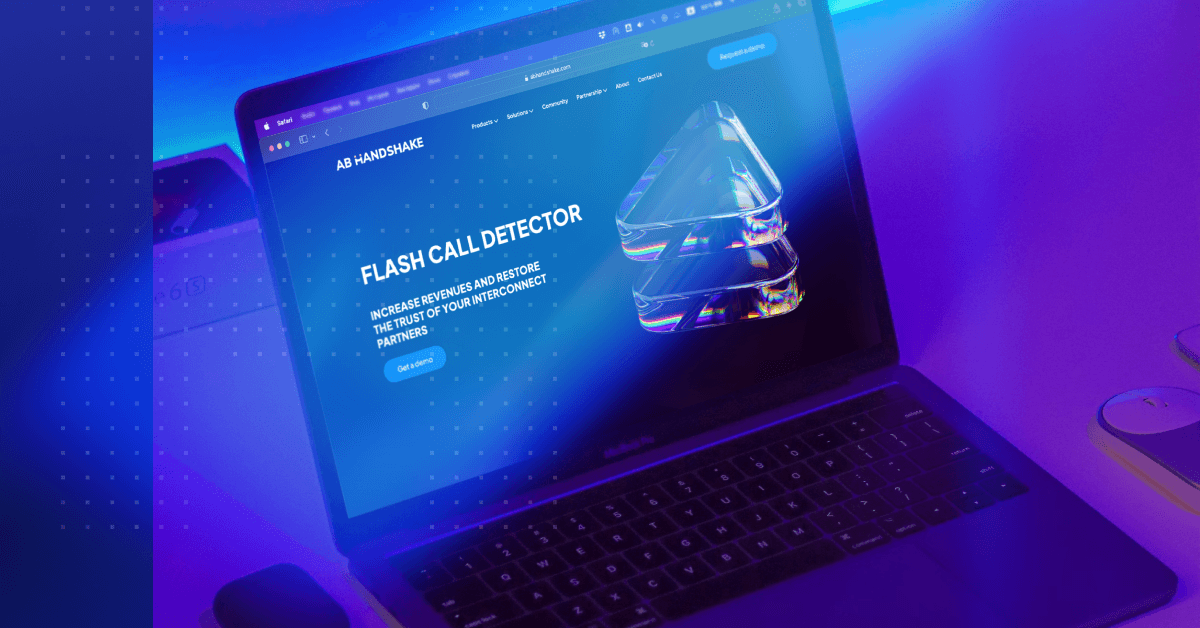 AB Handshake launches Flash Call Detector
Turning an issue into revenue
We are thrilled to announce a new solution for operators and transit carriers, which addresses a very pressing issue – flash calls.

The Flash Call Detector uses the same advanced machine-learning engine as AI Shield. It detects flash calls in real time with unparalleled 99.92% accuracy. Once operators know the ranges from which flash calls are sent, they have the freedom to either block or monetize this verification channel, thereby boosting revenues.

Why are flash calls a pressing issue for operators?
Flash calls are zero-duration calls, that deliver One-Time Passwords (OTPs) to customers as some digits of the calling number. Also known as A2P Voice, flash calls have become increasingly popular for being a cost-effective, safe, fast and frictionless method of customer verification, compared to A2P SMS. WhatsApp, Telegram, Viber, IMO, TikTok and other prominent apps now use flash calls to authenticate users' phone numbers.

While offering great advantages for apps, service providers and end-users, flash calls also cause significant issues for operators and transit carriers.
Flash calls disrupt A2P SMS revenues
By default, terminating operators earn nothing from zero-duration calls regardless of their origin. Therefore, when service providers use flash calls rather than A2P SMS, operators and transit carriers lose out on potential SMS termination revenue.

And the issue only becomes more pressing:

Juniper, one of the most reputable telecom-focused research companies, has estimated that Flash Call volume will increase by 25 times from 2022 to 2026, from 5 to 130 billion.

Much of this traffic will be shifted from existing A2P SMS authentication. Juniper's report predicted that authentication-based SMS revenue will reach $39 billion globally by 2022. This will constitute about 5% of total operator-billed revenue. Therefore, unless operators find a way to protect A2P revenues and bill flash calls, the losses over time could be significant.

However, at the moment there is still no industry consensus on how to treat flash calls, while they continue to erode revenues, disrupt relations with interconnect partners and overload networks.

This is why the AB Handshake team has trained its AI engine to detect flash calls. The solution's engine already works with the traffic of 140+ operators worldwide. Therefore, operators can now protect their current A2P messaging revenues, while also generating new revenue by monetizing flash calls.
Flash calls are difficult to detect
One of the reasons why flash calls remained unchecked by operators is the difficulty involved in detecting them. For instance, flash calls can be easily confused with fraudulent schemes that rely on drop calls, such as Wangiri. Outdated rule-based FMS will expectedly struggle to differentiate between different types of zero-duration calls.

This is where AI Shield's machine learning engine as well as its behavior analytics truly stand out. The AI engine analyses 100+ complex parameters in real-time, including 20 parameters that target flash calls. The solution also uses a comprehensive database of flash call A-number ranges which is constantly updated.

That is why our solution detects flash calls in real time as they are attempted with unparalleled accuracy of 99.92%. The solution is fully effective from Day 1 because it constantly learns from the live traffic of 140+ operators.

Once flash calls are brought to light, operators can then choose how to treat them.
Turning an issue into a business opportunity
AI Shield's engine detected that flash calls constitute up to 4% of operators' international voice traffic.

All of this traffic can be monetized to generate new revenue.

With Flash Call Detector, operators now have the information needed to negotiate a flash call billing agreement with interconnect partners or with 2FA service providers. AB Handshake facilitates traceback activities by discovering the source of a flash call. It is also easy to download all of the necessary log files via the solution's simple interface, which has built-in reporting features.

Once an agreement has been reached, the approved A-number ranges can then be easily added to the whitelist section of the interface.

All flash calls not covered by agreements can be blocked automatically to restore A2P SMS revenues. Once a flash call has been blocked, 2FA service providers have no choice but to send an SMS OTP as a fallback. Our solution offers granular blocking of specific ranges, which means legitimate traffic remains unaffected.

AB Handshake's Flash Call Detector flips the situation in the operator's favor and turns a problem into a new business opportunity.

If you'd therefore like to discuss the most efficient flash calls monetization model and see our simple interface in action – get in touch with our expert team here.
About AB Handshake
AB Handshake is a global system for eradicating telecom fraud, founded by a team of professionals with decades of experience in telecom, IT and engineering. We provide comprehensive solutions that tackle all major fraud scenarios as well as emerging fraud types. Our technological achievements are regularly recognized with the most prestigious industry awards and renowned organization memberships such as the ITU, CFCA and GSMA.
Subscribe to our Newsletter