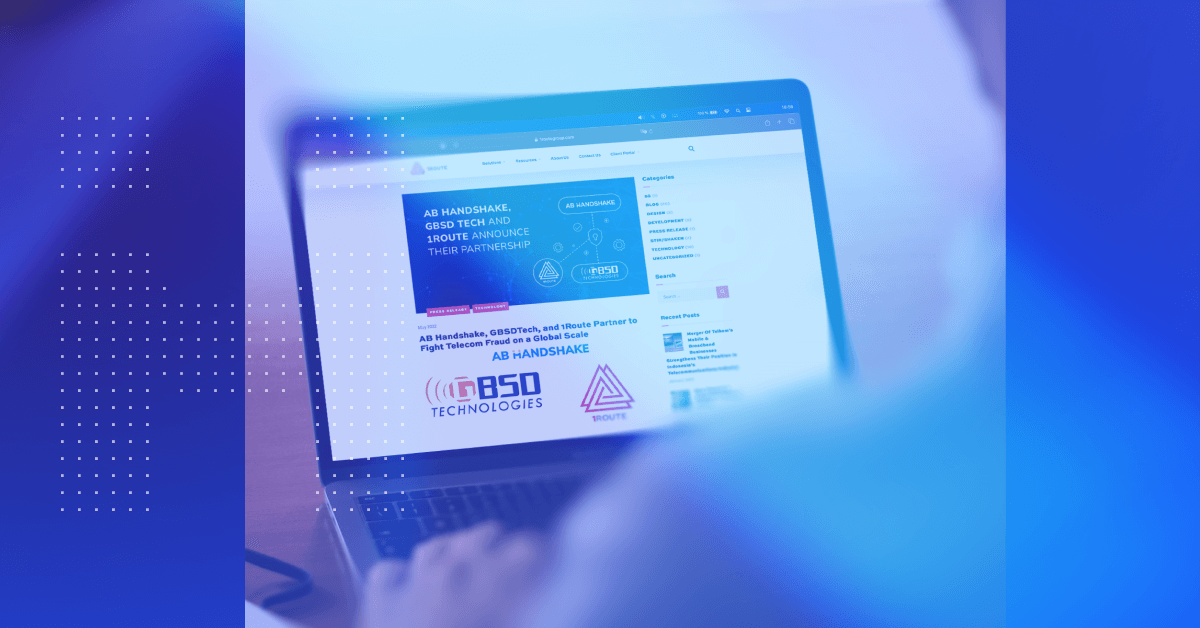 AB Handshake, GBSDTech and 1Route Partner to Fight Telecom Fraud on a Global Scale
As robocalls continue to rise, it's important now more than ever to protect against fraudulent behavior in the telecommunications industry. With the risk of fraud at the forefront of inbound and outbound voice traffic, three influential services are combining efforts to bring trust back to the telecom space.

1Route, GBSD Tech, and AB Handshake are joining forces to make an international difference through innovative strategies, advanced technology, and intentional, forward-thinking collaboration with one goal in mind – to establish a world free of telecommunications fraud.
A Word From Management
"I am really excited about this partnership. Together, AB Handshake, 1Route, and GBSDTech will scale our portfolios and expand our footprint to prevent fraudulent traffic in the telecom space worldwide." says Vasily Birulin, MD of AB Handshake.

"The telecom industry has lived with the storm of fraud for long enough. While in the thick of a storm, most people don't realize that above that storm is sunshine and blue skies. This collaboration between 1Route, GBSDTech, and AB Handshake is a much-needed solution to bring our industry out of the storm. Together we will bring trust back to voice and remove the red button." says Jeffrey V. Ross, CCO of 1Route.

"By collaborating with 1Route and AB Handshake, we will bridge the great divide between countries, perspectives, and technologies to provide one robust compatible solution for telcos globally." says Mike Powers, MD of GBSD Technologies.
Guaranteed Fraud Prevention
The three powerhouse protection companies are joining together their leading technologies and progressive efforts to build a logical bridge between the U.S. STIR/SHAKEN community, AB Handshake community, and the rest of the world. Their joint efforts will allow operators to cross-validate international traffic traversing between countries and continents.

With this partnership, the evergrowing voice traffic atmosphere can continue to move forward without worrying about the risk of invasive activity and extortion.

Together, we will remove the red button and end fraud on a global scale.
About AB Handshake
AB Handshake is a Miami-based corporation established in 2020 by a team of professionals with decades of experience in telecom as well as expertise in successfully developing and establishing innovative hi-tech companies.

What started as an idea for preventing voice fraud via call-validation turned into a universal fraud-prevention solution for all types of networks. By cross-validating the A and B call registry data on individual calls in real-time, the AB Handshake solution detects all forms of voice fraud and blocks fraudulent calls before they connect. The solution guarantees 100% protection from all types of voice fraud with zero false positives.

To learn more about our solution, visit us at abhandshake.com. If you're ready to join the community of fraud-free operators, write us today.

For updates and resources, follow AB Handshake on Instagram, Twitter, Facebook, and LinkedIn @abhandshake.
About GBSDTech
Based in Texas, GBSDTech was founded in 2003 with a focus on developing locationing technology for emergency services. GBSDTech's robust product portfolio includes a soft switch that acts as an SS7 fraud blocking firewall, location-based tech for lawful intercept and emergency services and 1Route, an unmatched interception service.

Learn more about safe calling services and solutions at gbsdtech.com. Get live updates on Twitter and LinkedIn @gbsdtech.
About 1Route
Headquartered in Ireland, 1Route is paving the way for new technology in the telecom industry. Through unmatched interception services, our goal is to bring trust back to voice. We are a global company with directors, advisors, and employees bringing representation from three major regions of the world (EMEA, APAC, and Americas).

Our Research and Development team is based in Texas and our Support teams are spread across the globe.

Learn more at 1routegroup.com. Stay updated on the latest news by following 1Route on Instagram, Twitter, Facebook, and LinkedIn @1RouteGroup.
Subscribe to our Newsletter